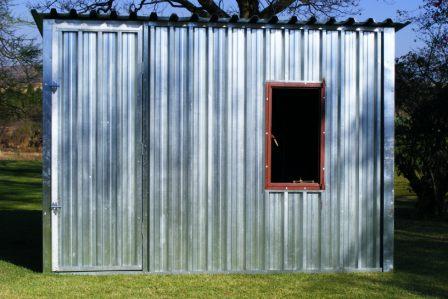 We manufacture these in standard sizes of 1.5m, 2.3m, 3.0m, 3.8m, 4.5m and 6.0m. Maximum width is 3m (eg: A 3.0m x 6.0m as a maximum size) These are custom build with your choice of door and window placement. We use 0.4mm or 0.5mm (According to yo


Aslo known as Site Toilets. These are available in Corrugated or IBR (As a sturdier alternative) and can be supplied in standard Galv, or in Chromadek.

We manufacture IBR, Wide Span and Corrugated sheets in Galv, Zincalume and Chromadek. Sheets are rolled to your required lengths, and we can offer same day Service for collections. Both Prime and B-Grade stock is available.

All standard Flashings are available (Ridgings, Corner Flashings, Gable Flashings, Over/Under tile Etc) as well as Custom Flashings can be made up to your requirements. Flashings are supplied in standard 3m lengths, and are available within 24 hours.

Standard Galv or Zincalume Gutters, Downpipes, Stop ends, Offsets, Holder Bats and Out Lets are available Ex stock. Special or Custom Rainwater goods can be made to your order.

We carry, Ex stock: Square Tubing Round Tubing Rectangular Tubing Angle Iron Round Bar Square Bar Flat Bar Lipped Channels Hot Rolled Sheets